Europe: Luxembourg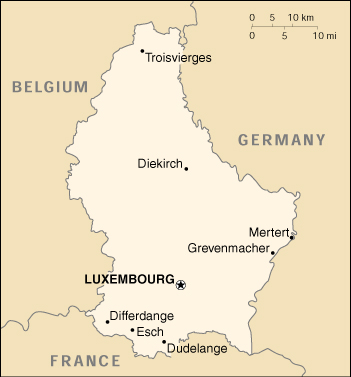 About Luxembourg
Founded in 963, Luxembourg became a grand duchy in 1815 and an independent state under the Netherlands. It lost more than half of its territory to Belgium in 1839, but gained a larger measure of autonomy. Full independence was attained in 1867. Overrun by Germany in both World Wars, it ended its neutrality in 1948 when it entered into the Benelux Customs Union and when it joined NATO the following year. In 1957, Luxembourg became one of the six founding countries of the European Economic Community (later the European Union) and in 1999 it joined the euro currency area.
Vital Statistics
Capitol City:
Luxembourg
Population:
442,972 (July 2001 est.)
Percent below poverty:
NA%
Language:
Luxembourgish (national language), German (administrative language), French (administrative language)
Date of independence:
1839 (from the Netherlands)
Form of government:
constitutional monarchy
Title of Leader:
Grand Duke
Natural Resources:
iron ore (no longer exploited), arable land
Environmental Issues:
air and water pollution in urban areas, soil pollution of farmland
Agricultural Products:
barley, oats, potatoes, wheat, fruits, wine grapes; livestock products
Imports:
minerals, metals, foodstuffs, quality consumer goods
Exports:
machinery and equipment, steel products, chemicals, rubber products, glass
Trading Partners:
IMPORTS: EU 81% (Belgium 35%, Germany 26%, France 12%, Netherlands 4%), US 9% (1999)
EXPORTS: EU 75% (Germany 25%, France 21%, Belgium 13%, UK 8%, Italy 6%, Netherlands 5%), US 4% (1999)
Luxembourg Headlines


Warning: fopen(http://p.moreover.com/cgi-local/page?c=Europe%20news&k=luxembourg&o=xml) [function.fopen]: failed to open stream: HTTP request failed! HTTP/1.1 404 Not Found in /home/blue/public_html/country.php on line 291
Could not open http://p.moreover.com/cgi-local/page?c=Europe%20news&k=luxembourg&o=xml for parsing!